Welcome
All dogs love their owners, but a Chihuahua's love is something special. You won't believe how much love can come from an animal so small. Chihuahuas are loyal, dedicated, and live for your love.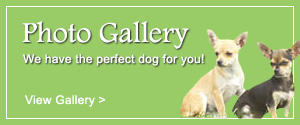 There's a little dog waiting to love you. Call us now so we can introduce you!
We recommend dog food from Life's Abundance.
Please click here to see the selection.
About Us
At Chihuahua El Rancho Kennels we raise pet, breeding, and show quality chihuahuas. We love our dogs as much as they love us. Every Chihuahua is home-raised. Every puppy is held and loved every day. Neighborhood children love to visit and play with the puppies. That's good on both sides. The Chihuahuas become comfortable with children, and the kids learn about caring for animals. Plus it's great fun to watch and listen to the giggles and puppy barks. Take a look at our photo gallery and see the fun our Chihuahuas have growing up.
Chihuahua El Rancho Kennels is AKC, ACA, DNA Certified. We have the papers, health certification, and breeding records for that great show dog, or the breeding pair to help you get started raising these wonderful animals. And if you are looking for a pet that will love you forever, visit Chihuahua El Rancho Kennels.

Follow us on:Facebook